Everyone is super heated-up about Jeff Sessions getting canned by President Trump on Wednesday. Talk about a brutal hangover from the election party. But I have been on the horn with some chatty mice in D.C. and they agree that more house cleaning is about to happen at 1600 Penn.
Obviously, my first instinct is to think about Secretary of Commerce Wilbur Ross, who Bloomberg News recently crime-shamed by saying that, "Ross may also be Trump's most corrupt cabinet member." I'm not one to take the Fake News Media at its word, but when I look at Sec. Ross's head of hair, I 100-percent agree that it looks like a "Teapot Dome."  This is some bigly bad news for the Commerce Sec.
Long story short, I bought a bunch of "NO" shares on Ross not making it until the end of the year. Trump doesn't want Nancy Pelosi's subpoenas sniffing around the Commerce Department come January, so this little cabinet secretary is about to take a fall from the top of Trump Tower.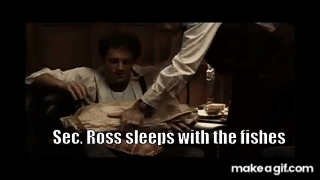 I was lucky and got into this market at 35 cents. But I bet if nothing happens  before Monday, you'll be able to come in at a lower price, given the ridiculous spread between big and ask right now.
What good luck looks like:
KEENDAWG.