Introducing the Kamala Harris 2020 Bullshit Baselineâ"¢, a Proprietary Tool to Measure White House Intentions
You might have noticed that I've been a little quiet lately. That's because I have been working hard with my engineering team to build a proprietary model for the 2020 Democratic presidential primaries. It is called the Kamala Harris 2020 Bullshit Baselineâ"¢ and it is named after the most blatantly ambitious Democrat who is obviously running for president even though she is constantly denying it. The Bullshit Baseline measures a presidential contender's phony answers to the question, "Do you want to be president," against four variables. Our proprietary algorithm weights and blends these answers to reach an exact probability that the individual in question will run. Those questions are:
Is the candidate campaigning in Iowa and/or New Hampshire?
Is the candidate prioritizing their career over the party's goals?
Is the candidate raising boatloads of cash?
Is the candidate denying he/she wants to be President?
Because Sen. Kamala Harris is obviously running, this post will be our test case and will run longer that usual. But it's important that we nail down her intentions, since her bullshit is the baseline that we will be judging all other 2020 hopefulls against.
Why We Know that Sen. Kamala Harris is Running
Everybody knows that Sen. Harris is running for president for a few reasons. The first one is that she is legitimately terrible at hiding her ambition and can go toe-to-toe with Ted Cruz for worst poker face on the planet whenever someone says the words "president," "White House," or "2020." Just watch the way she giggles like a 10-year old girl as soon as it comes up in this interview.
https://www.youtube.com/watch?v=3MMXwNzN9aI
The second reason why Sen. Harris is obviously running for president is that she spent way too much time campaigning in Iowa this fall.
This is strange because (1) Sen. Harris lives in Los Angeles, not Cedar Rapids; (2) Democrats were favored to crush it in Iowa all along; and (3) Harris's Senate Democratic colleagues Heidi Heitkamp (D-ND) and Claire McCaskill (D-MO) could have really used her help in nearby North Dakota and Missouri, where they both got iced in tight races.
Obviously, boosting her street cred in Iowa, which is arguably the most important Democratic primary, was more important to Sen. Harris than rescuing her friends from the hungry Republican wolves on the prairie.
☑ Is this candidate campaigning in Iowa and/or New Hampshire. BIG YES.
But why would Kamala Harris leave her friends to die? Doesn't she believe in empowering women, and supporting their careers in the Senate?
Great question. This gets us to the third sign that Sen. Harris is running for President: she has basically been pulling a Ted Cruz for all of 2018, which is what Harvard scholars call it when someone uses his or her Senate seat as a media platform and stops treating it like an actual job. The most obvious example of this happened in the fall, when Sen. Harris and fellow presidential hopeful, Sen. Cory Booker (D-NJ), tried to decapitate Supreme Court nominee Brett Kavanaugh and then use his skull as a collection dish for Silicon Valley fundraisers.
Unfortunately for Senate Democrats, these hijinks in the Judiciary Committee backfired bigly. Republican Leader Mitch McConnell eventually described the Kavanaugh madhouse as "an adrenaline shot" for Republicans that was, "extremely helpful" in galvanizing GOP voters for the election.
Whoops.
☑ Is this candidate prioritizing her career over the party's goals? 100-PERCENT, YES.
Which leaves two more boxes to check for Harris to be a dead-ringer for a presidential candidate:
 ☐ Is she raising boatloads of money?
☐ Is she denying that she has interest in the job?
On the first count, I think we all need to salute Sen. Harris for her creativity in fundraising. Instead of pounding the pavement and following Alec Baldwin's advice in Glen Gary, Glen Ross to "always be closing," she has been acting in an extremely bipartisan manner and channeling her inner George W. Bush. By that I mean–
Harris has been conducting massive strikes of fundraising power to show how savage her war machine is– but she hasn't let it off the chain yet. She is said to have raised $400,000 in one day for Heidi Heitkamp. That kind of money makes Beto O'Rourke's ATM of a senatorial campaign look like a lemonade stand. But like George W. Bush's dumb invasion of Iraq, we all know what's coming next for Kamala.
☑  Is she raising boatloads of money. YUP.
Lastly, Harris has been telling us all year that she has no interest in being President. This is usually the best sign that someone is a complete and total psycho who spends their whole day fantasizing about having a pair of White House slippers and a personal chef who can tell you stories about Bill Clinton. Let's review:
In April 2018, Ellen DeGeneres asked Harris if she wanted to run. Harris's answer was that she was "not going to answer." Hmmm…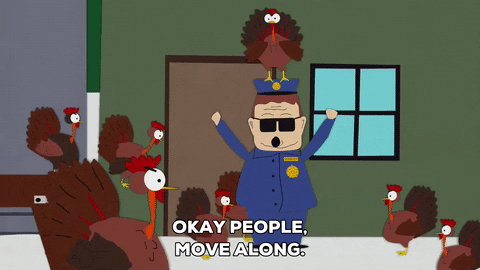 This June, Sen. Harris answered the same question by telling MSNBC that, "I'm not ruling it out."
And this past week, Sen. Harris told Morning Joe co-host Mika Brzezinski at a San Francisco conference that whether or not she runs for president, "will ultimately be a family decision" that she will make "over the holiday."
Here's what that "family decision" will look like if it's a "no."
☑ Denying that she wants the job. YOU BETCHA!!!
CONCLUSION:
All of this gets us to what PredictIt's traders already know: that there is almost no chance that Sen. Harris isn't running for President. Currently, traders have the odds of that at 93-percent, which is more certain than I am of anything, including my own hair color.
So now that we know Kamala Harris is going to run, and now that we have the 2020 Bullshit Baseline calibrated, we have a solid tool to measure other politicians' intentions against. We can measure their bullshit answers to these four questions against Kamala Harris's to get a real-time probability of whether they're in or out for 2020. What a genius idea.
Oh, and a word about the proprietary technology behind our model. It's this:
AND this:
Talk about savage.
KEENDAWG.