2020 Dem Derby II: the Case for Betting the Field
Yesterday I dropped the first of a two-parter on my big question for the 2020 Democratic Party: whether you should spend this election betting on the Favorites (Biden, Bernie, Kamala) or the Field (everyone else). Check out the case for betting the Favorites here. Today's topic is why it would be a total alpha move to bet the Field.
THE CASE FOR BETTING THE 2020 DEMOCRATIC FIELD
The question of whether to bet the Field or the the Favorites is actually a fancy way of asking a few things. I am going to go through them one-by-one, because I am probably the most organized person on the planet and I like to party like that.
(1) Do Democrats want someone "electable" or someone who is "progressive?"
If you know the answer to this question then you are either psychic, a genius, or lucky. I am only one of these three and my view changes weekly. The 2018 election was loaded with proof that Democrats wanted both. Hardline communists like Rep. Alex Ocasio-Cortez (D-NY), Rep. Ayanna Pressley (D-MA), and Florida Gubernatorial Nominee Andrew Gillum made headlines for winning some shocking primaries against longtime party insiders, but HBIC Nancy Pelosi built her House Majority by recruiting candidates who are extremely reasonable, and would probably bake you an apple pie if you moved in next door. Just check out Rep. Abby Finkenauer (D-IA) and Rep. Colin Allred (D-TX) who are absolute gems and actually won back GOP-held districts instead of making existing Democratic ones more liberal.
These monsters are probably closer than AOC to the "change" that voters picked last November. Keep that in mind as we go forward.
(2) Is being named, "Joe Biden" a huge asset or do Democrats want a "new face."
To begin with, I personally believe that Americans absolutely want something new always. The fact that we are considering South Bend, Indiana, Mayor Pete Buttigieg a serious candidate for President is proof of this. I have been baffled by a lot of things in my life, such as the jaw-dropping popularity of Pokemon Go and the absolute chokehold that "The Electric Slide" had on weddings throughout the 1990s, but nothing tops my shock that people actually think that a 37-year old who's biggest job ever was running a city whose whole population and economic output is equivalent to The Gap, Inc., is poised to lead the free world.
I also think the "give me a new face" wing of the Democratic Party matches up with the generational divide inside of it. As everyone knows, the Democratic Party is basically split into three camps. One of them is rich people who feel guilty. Another is poor people who Republicans want to deport and/or stop giving aid to. And the third camp is made up mostly of privileged Millennials who would incinerate themselves in the street to protest racial injustice if it weren't for the fact that burning human flesh causes dangerous CO2 emissions that are harmful to the planet.
Camp #1 will favor a candidate who is stable and has an actual track record. Camp #3 definitely prefers "a new face." And Camp #2 is the one that will decide who the Democratic nominee is. This hooks into–
(3) Who is going to win the early primaries?
I personally think that the Democratic Primaries are formatted like the World Cup.
The first round is straight-up Group Play, where everyone gets to kick around the old footy in Iowa, New Hampshire, Nevada, and South Carolina. Then, depending on the results, most of the field will get eliminated as the top teams advance to the knockout round, which begins with Super Tuesday. If Biden and Bernie can run the table in these first four primaries, then it's going to be a tough chore for any other squad to rally from behind.
But sweeping the early primaries is serious business and basically never happens. If you were at the World Cup, it would be like having to beat Germany, Brazil, Spain, and Argentina with all their different styles of play in the first round.
The biggest trap games are the first two, in Iowa and New Hampshire. For big time candidates, this is like being Brazil and playing the U.S. National Team on the road in Columbus, Ohio, which is a famously small stadium that Team USA schedules its toughest matches in due to the fact that the weather conditions freak out rivals from South America and the fans are especially dedicated. Playing in this tiny, quirky venue literally levels the playing field for the outgunned USA squad.
The Iowa Caucuses and New Hampshire primary do the same thing for boutique candidates. That's because the small local populations in both states loves to jerk themselves off over how they, "don't vote for presidents they haven't met," and "decide elections in their living rooms." Candidates, like Jeb Bush, who think they can come in and just nuke their competition with campaign cash usually get smoked. Hillary Clinton almost fell for this trap when she scraped-out a win by 0.2% in in Iowa and barely avoided being swept by Bernie in the first two primaries. Neither Barack Obama, nor Donald Trump, George W. Bush, or Bill Clinton won both both of these contests. I really can't emphasize enough what a savage and unforgiving environment Iowa and New Hampshire are for "favorites," which is absolutely horrible news for Uncle Joe, Bernie, and Kamala. That's because right behind them are three absolute legends of retail politics who literally built their career by selling voters in their living rooms. They are Elizabeth Warren, Beto O'Rourke, and Cory Booker. Let's look at some of their work.
I have never heard of people from Massachusetts being this fired-up without a witch to burn.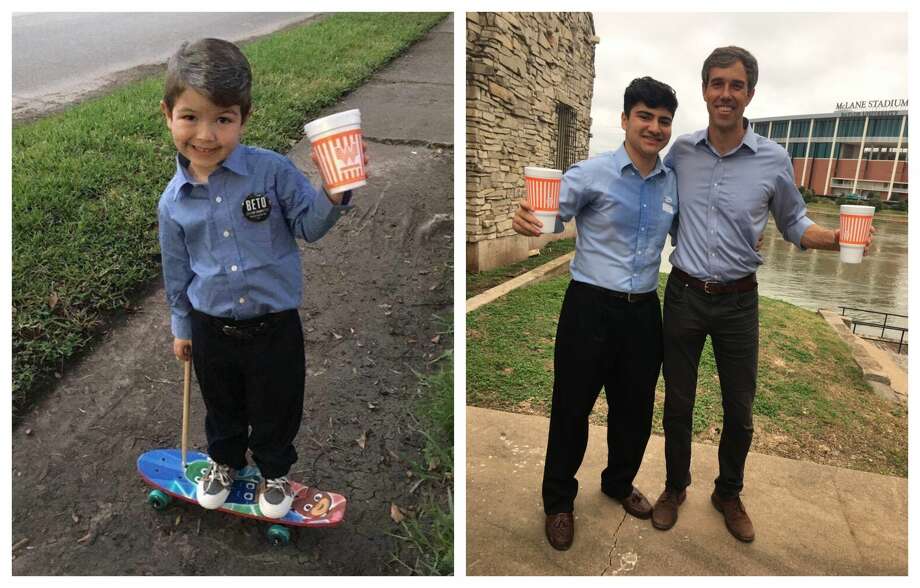 What candidate is so savage that he inspires his own Halloween costume?
The bro thinks that door-to-door canvassing means saving human lives and precious animals. Total alpha move.
Even worse for the big dawgs, all three are candidates from the "progressive" and/or "fresh face" wing of the party, with Elizabeth Warren and her absolutely savage campaign organization posing an especially strong threat. If and when Joe Biden drops an early primary, we are going to see a suicide blitz from the hardcore Left to pull him out of the game and put one of their candidates in. This technique was best illustrated in HBO's cinematic classic, Band of Brothers.
I rate this civil war as being highly likely, due to the fact that the only thing in politics more common than Donald Trump tweeting something completely insane is Joe Biden slipping up and saying something jaw-droppingly stupid. Uncle Joe has a long history of boning himself and others, which is best captured by the time that he humiliated President Obama by telling the press that Barack secretly supported gay marriage.
And then there is the time that Biden completely boned himself with #MeToo Democrats by being extremely handsy with women in public.
Get ready for a total food fight between Democrats when he does this again.
Lastly, I said that if he and Bernie can split the opening primaries, then the whole field will just melt away. Nevada and South Carolina are third and fourth on the Democratic Calendar. This is where the part about having to win games against totally different styles of play comes in, because these primaries are designed to test if candidates can connect with Latinos and African-Americans voters. You don't have to be a genius to know that Biden and Bernie aren't exactly the ideal match for these communities and that there is basically a cultural hole the size of the Southern Border for Sen. Kamala Harris and Sen. Cory Booker to smash through. I would not at all be surprised if a non-white candidate could win either of them and keep the hopes of the woke and "fresh face" coalition alive going into Super Tuesday, where that win could translate into a savage upset in California, which is by far the most theological state in America ever since the Social Justice Great Awokening occurred with the release of Get Out. 
The point is that once a non-white or non-favorite wins a primary, which I think is basically guaranteed, we are going to have a total brawl inside the DNC that Biden's huge polling numbers are covering-up right now. This is when the depressed valuations of candidates in the Field will start to pump, and when those of you who have the stones to bet them will rake in some alpha.
What is the betting strategy behind this?
Earlier this week, we wrote that you can buy all the favorites for about 60 cents. However, if you want to play the field, you can pick-up shares on all of the viable candidates for a fraction of that cost.
Aggressive traders will want to do one or the other to maximize gains. But those of you who want to make your bets and walk away could combine the two– bet the three favorites, plus a few key underdogs — I like Warren, Booker, Klobuchar, and Hickenlooper — for a total cost around 80 cents per share. I've picked-up shares of all of these candidates in hopes of selling them off during a quick pump when one or more over-performs in an early primary. Considering that I bought all of them except ol' Lizzy Warren for for less than 5 cents, I only need two candidates to pop into the 15-20 cent range to start tasting alpha, which I think is likely since I can make a case for all of them finishing in the top three of the first few primaries.
As for Mayor Pete, check back this summer to see if he's still a threat. And as I watch polling numbers from Iowa coming in — I'm not sure that Beto is dead yet either.
It's going to be a bumpy ride, animals. Buckle up.
KEENDAWG.