Dem Debate: Will Joe Biden Get Handsy? Will Elizabeth Warren Crack a Beer? Will Beto Speak Spanish? All These Bets and More for Dem Debate II.
I have been ringing my own bell a whole lot lately about how Star Spangled Gamblers is basically 4-6 months away from surpassing Google as the #1 website in America; and how I am 99 percent sure that the Emperor of China, Xi Jinping, will probably be asking me to create a separate version of this website that can spy on people and tell the government if they are into freedom or porn. I look forward to this future because I am a massive optimist. However, in the meantime, my belief is that political gambling is being strengthened by smaller advances, like the fact that Bovada is once again posting lines on the Democratic Debate. This was brought to my attention by friend of the blog TJ, who is an American hero.
Anyway, the action over there has got me really fired-up. The first reason is because their bets ask some interesting questions about the election; and the second reason is that all their lines are benchmarked against the first Dem debate in Miami, which is a massive opportunity to fire up the alpha factory. This is truly a boneheaded move by their bookies because every candidate has been watching tape non-stop since the last debate and adjusting his or her gameplan. I talked about this a lot in my last post.
Here's how I see it:
How many candidates will speak Spanish during the second round?
Over 2: +225
Under 2: -350
What a great question. I personally think that campaign staffs have been torturing themselves more over this decision more than I torture myself over the choice between Beef O'Brady's or Applebee's for a first date.
I looked up a Univision poll and it told me some interesting facts. Of the three candidates who spoke Spanish in the Miami debates, only one got a boost among Latinos, and that was Julian Castro, who is an actual Hispanic and not some dope poser like YouTube Star Beto O'Rourke and/or Sen. Cory Booker. In fact, YouTube star Beto O'Rourke actually lost ground with Hispanics after his bi-lingual power move, and according to the data I saw, no one even knew that Cory Booker was there. The bro might as well have been speaking Chinese. What can I say, it's a tough business and these two bros can always pick up a few shifts at O'Charley's if this POTUS thing doesn't work out.
Long story short, I am taking the under.
How many times will Biden mention Obama?
Over 3: +125
Under 3: -165
In Miami, it was three, plus two references to, "the President." This is actually an important point to make because a pro like Biden has 40 years of Senate training to always refer to the man sitting in the White House as "the President" out of respect. One of the biggest questions about the Biden campaign is whether or not this old dog can learn new tricks, such as checking his white male privilege and not getting handsy with the ladies. That's why I think that Biden's campaign staff is training him really hard to start saying "President Obama," or "Barack Obama," instead of "the President." They want to squeeze as much juice out of that association as possible. I would be willing to bet that he does this and does it well.
I say — take the OVER.
Will Andrew Yang wear a tie?
Yes: +350
No: -500
This bet is another potential bye week adjustment that I think will tell us a lot about the candidate. Andrew Yang's last debate performance was a massive fail, partially because he looked like an insurance salesmen who got lost looking for his Diet Pepsi Big Gulp in the office pantry.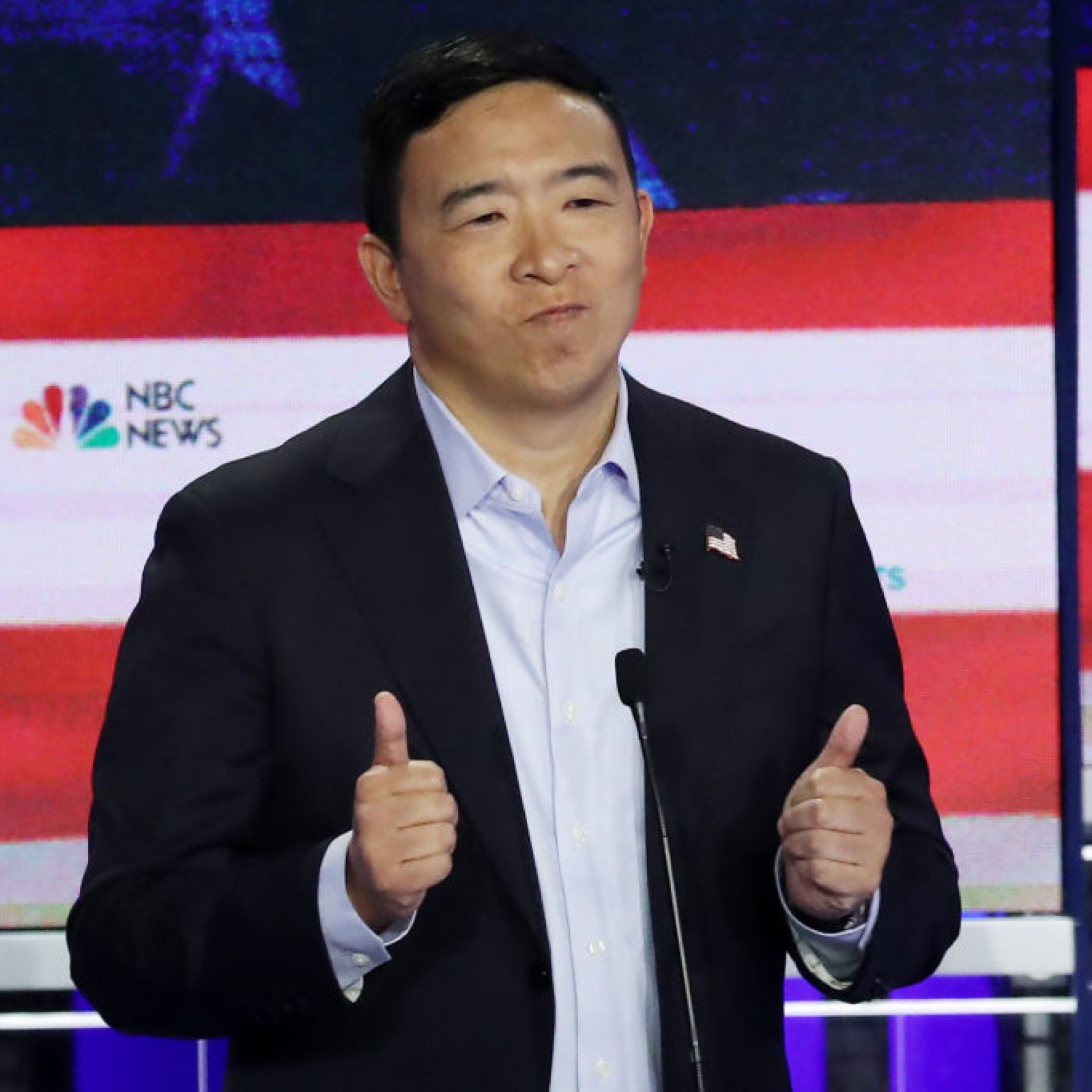 Yang just didn't look like a president at all and that is not because he is Asian. Transportation Secretary Elaine Chao and ex-Sen. Daniel Inouye (D-HI) are/were absolute giants and looked the part. If Yang is a serious politician, he will adjust his attire and do the same. If he is a dope, he will not.
My thoughts? NOPE. He's going tie-less. Not worth it at these odds though.
Will Beto O'Rourke speak Spanish during the debate?
Yes: -220
No: +155
One of the areas of true bipartisan agreement in America is that the biggest piece of garbage that was on TV this year was actually not HBO's Euphoria. It was Beto O'Rourke's June debate performance, where he opened with some cringe-worthy Spanish and then just got pantsed at the DNC-playground by Julian Castro. It was truly butt fumble bad.
I don't think O'Rourke is a dummy but I do think he is 100 percent learning on the job when it comes to campaigning on the national level. What works at the Iglesia del Sagrada Corazon in Tyler, Texas, is not the same as what works on MSNBC. If he's smart, O'Rourke will drop this part of the act. I think he's smart, so I am taking the UNDER.
Will Elizabeth Warren crack open a beer?
Only if she wants to be the next president.
Will Joe Biden hug any candidates on camera?
Yes: +275
No: -450
Best bet of 2019. I watched some tape of the last debate and the #1 hugger is actually Sen. Elizabeth Warren. We all know that Biden likes to stroke the ladies but I am not thinking he is going to be feeling especially stoked after this debate. That is because he is sharing the stage with: Sen. Kamala Harris, Sen. Kirsten Gilibrand, and Rep. Tulsi Gabbard.
Tbh, Sen. Harris is the only real threat here. She is going to be right next to him at center stage and there is always the chance that they will play nice this time after the absolute thrashing she gave him in Miami. Yes she needs to beat Uncle Joe but I am 99 percent sure that the main reason why she beat Gov. Gavin Newsom in the 2012 California Senate primary is that the Obama White House basically came in and just nuked the election for her. So she kind of owes Biden a favor. Then there is also what I mentioned earlier, which is that Sen. Cory Booker is probably going to come after Biden with a shiv made out of racial grievance and inter-generation warfare and do Harris's dirty work for her. This could create a situation where Biden and Harris kiss and make up after the debate in a show of unity. But it is more likely a situation where Biden starts the night with a massive pre-emptive strike against Harris to answer the beating she gave him in Miami. This would be bad news for a hug.
As for Sen. Kirsten Gillibrand, no one even knows she is running for president, including Joe Biden. She will be so far across the stage that I expect the cameras to be out wide and not able to see whether or not she gets a hug.
As for Rep. Gabbard, there are two major things going against her getting a hug from Briden: (1) She is in the House which to a 30+ year Senator and former VP, is worse than being in the fat chick sorority. There is no chance he wants to be seen anywhere near her. There is also the fact that she is kind of weird, which isn't really Uncle Joe's thing either.
Will OJ Simpson tweet about the debate, during the debate?
This is one of the most pressing questions of our time.
Will there be another mic issue?
What an idiotic question.
How Many Times Will Donald Trump Tweet on July 30?
Ask someone else.
KEENDAWG.