Poll Wars V: The Dem-pire Strikes Back
I have recently been made aware that there are people reading this blog who have gotten laid before. This is a problem due to the fact that the title of this post is a Star Wars pun which people who crush beers won't get. Anyway, one of the facts of science is that the best Star Wars was Episode V, The Empire Strikes Back, just like this is the 5th episode of our poll wars story on the Democratic debates. So #LFG boyzzz.
A lot of you probably wonder what The Empire Strikes Back has to do with the Houston Democratic Debate but the truth is, everything. That is because an evil force is hitting back at overmatched and outgunned Rebels in both. In Star Wars, it is an empire run by Darth Vader. But in the Democratic debate, it is the DNC and its brutal henchman reality. And the reality is that a lot of the Dems who have qualified for the past two debates are going to get choked-out of the next one worse than Darth Vader choked out this loser: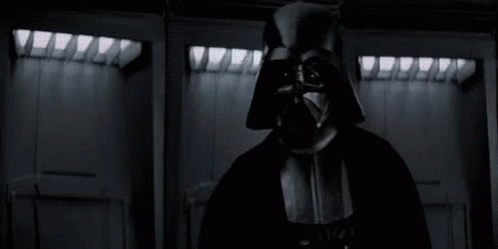 This already happened to Gov. John Hickenlooper and Gov. Jay Inslee who have been getting smoked and finally quit the presidential race. The stakes have just gotten way higher for the Houston debate. For the Miami and Detroit debates, you basically could just hold a bake sale and design a campaign a t-shirt with your candidate's face on it and still make the stage. But for this next round, the standards are higher. They are:
— 130,000 individual donors
— 4 polls showing 2 percent or more support since June 28, 2019.
This basically guarantees that these pols won't make the cut: Sen. Kirsten Gilibrand, Weirdo Marianne Williamson, Gov. Steve Bullock, Sen. Michael Bennet, Mayor Bill de Blasio, Rep. Tim Ryan, Sweaty Guy John Delaney, and Ambitious Loser/U.S. Rep. Seth Moulton. It was extremely brave of them to launch an assault on the DNC Death Star but tbh, their role in this whole thing is just to die so that Luke Skywalker aka Biden/Bernie/Warren/Harris can look like a hero at the end when they plug it with their political proton torpedoes. For the purposes of this debate, there are only two pols who are left on the bubble. They are Rep. Tulsi Gabbard and Rich Guy Tom Steyer. I made this big chart to track where the two of them are.
| | | |
| --- | --- | --- |
| Poll | Steyer | Gabbard |
| CNN (8/15-8/18) | x | 2% |
| ABC News/WaPo (7/1) | x | 2% |
| Monmouth IA (8/8) | 3% | 1% |
| Monmouth SC (7/18) | 2% | 1% |
| Fox SC (7/10) | 0% | 0% |
| CBS IA (7/9) | 2% | 1% |
Since Gabbard is at two polls and Steyer is at three, the next question to ask is whether or not there are enough cards left in the deck to get either of them to four. I took out the old pen and paper to contemplate this.
| | | | |
| --- | --- | --- | --- |
| National Polls | Last Poll | Frequency | Possible New Poll by 8/28? |
| Associated Press | X | X | X |
| CBS | X | X | X |
| CNN | 15-Aug | Monthly | No |
| Fox | 11-Aug | ~6 weeks | No |
| Monmouth | 12-Jun | X | Maybe |
| NBC | 7-Jul | None | No |
| NPR | None | None | No |
| Quinnipiac | 1-Aug | Monthly | No |
| WSJ | 12-Jun | None | No |
| USA Today | None | None | No |
| Washington Post | 1-Jul | Quarterly | No |
And lastly, the state polls that could pop-up:
| | | | |
| --- | --- | --- | --- |
| State Polls | Last Poll | Frequency | Possible New Poll by 8/28? |
| Des Moines Register/CNN | 5-Jun | ~2 months | Yes |
| USAT (IA) | 28-Jun | ??? | No |
| CBS News (IA) | 9-Jul | ~6 weeks | Yes |
| Monmouth (IA) | 4-Aug | ~4 months | No |
| CBS News (NH) | 18-Jul | ~6 weeks | Yes |
| UNH/CNN (NH) | 15-Jul | Quarterly | No |
| Monmouth (NV) | 11-Jun | X | No |
| Monmouth (SC) | 22-Jul | X | No |
| CBS (SC) | 18-Jul | Monthly | Yes |
| Fox (SC) | 10-Jul | X | No |
Actually, I want to know one other thing. Last week the Iowa State Fair finished, which is pretty much Comic Con for politicians launching their presidential campaigns. Elizabeth Warren even met a fan who was into cosplay*.
*not actually a photo from the Iowa State Fair
So I have a feeling that some pollsters will be checking up on Iowa to see who moved the needle, just like they did in 2011 and 2015 at the beginning of those cycles. See below:
2011 – two post state fair polls (zero would count for this market):
2015 – three post-state fair polls (two would count in this market)
But if the Force is strong with you then you have already realized a major problem that Rich Guy Tom Steyer has: only one of the three polls that I am predicting would count for him, due to the fact that he has already scored a win on an Iowa CBS/YouGov poll which means the DNC Rules Cuck Panther would not count a second Iowa CBS poll. This bro has been tweeting about this too:
By potential early state polls, I mean ones that appear at least somewhat likely to be published by 8/28, based on release schedule and public info.

— The Artist Formerly Known as Debate Tracker (@TrackerDebate) August 21, 2019
And I am pretty sure that CBS isn't going to commission a South Carolina poll due to the fact that everyone in America who is not a poor is eating noodle salad on the beach from now until Labor Day. It is just not the time of year where you see a lot of hustle.
So basically Rich Guy Tom Steyer has to hope that The Des Moines Register is going to do a post-State Fair poll this year like they did in 2015, because that is really his only chance. I would not discount the fact that he will probably buy The Des Moines Register to guarantee this happens though.
So what is the answer? Will Rep. Tulsi Gabbard and/or Rich Guy Tom Steyer Qualify for the September Debate?
IDK, animals. This is dicey. If you put a gun to my head I'd say they're both out. I know that is bold AF. I have a small position on Tulsi NO at 68 and am trying to get a NO position on Steyer for under 30 cents. Both of these bets make me nervous and I honestly wouldn't have made them if it wasn't for the fact that I ran out of Xany bars this weekend while watching YouTube videos of the band Korn playing jazz covers. That will seriously f*ck you up. The truth is that I could be pulling a Luke Skywalker in these markets, which is what I call it when you get cocky and pick a fight that you are not prepared for and just get owned because of it. This would be extremely on brand since I am writing an Empire Strikes Back themed post.
Yep, that could be me. You decide.
KEENDAWG.