Poll Wars VI: Tom Steyer is Making Me Say Uhhhhhh
Some of you monsters have been DM'ing me about whether or not I still think that Rich Guy Tom Steyer is going to miss the September Democratic debate. This is due to the fact that he only needs one more poll at 2 percent support to make the stage and the USA Today is rumored to be releasing the results of a survey that could do the trick. So we are here:
The first thing I should say is that I am 100 percent not stressed out at all because I got in at 28 cents and have been dripping in cash for the last day while this market has run up to 75/25. Honestly, my plan for the weekend is just to re-enact this Master P video including purchasing a gold-plated tank and an off-brand basketball team with the funds I have attained in this absolute bank robbery of a marketplace.
But for the rest of you who did not take my good advice to buy NO on Steyer while it was cheap, this is what I have to say about the rumor that a USA Today national poll is coming out soon — and what to do with your investment.
[wpvideo 65BMmIYY]
Yep, I'm holding NO with my remaining shares. PS, do you see what I see?
It's Rich Guy Time Steyer getting dunked on by the DNC.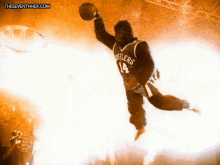 And the rest of us getting rich AF. Ta-nah, nah-nah.
KEENDAWG.