DEM PRIMARY: Who's the Next Drop Out?
One thing that I have learned about politics is that basically everyone wants to talk about who is going to be the next president. However, since approximately 2/3 of registered Democrats in the USA are currently running for president, this question is extremely hard to answer. That is why one of the techniques I have been using to predict the 2020 campaign is the process of elimination. The geniuses at PredictIt are on to this and have created two markets where you can bet on who will quit the campaign next. For upper-tier candidates, there is this one:
Which you can get my thoughts on here.
For lower-tier candidates there is this one, which I am going to just soak you in genius about:
The second string Dems included in this market are: Sen. Cory Booker, Sen. Amy Klobuchar, Julian Castro, YouTube Star Beto O'Rourke, Rep. Tulsi Gabbard, and Andrew Yang. From least likely to most likely to quit next, here are the Keendawg power rankings.
Sen. Cory Booker and Sen. Amy Klobuchar
I am going to combine these two candidates into one. Sen. Amy Klobuchar (MN) and Sen. Cory Booker (NJ) are like the Swiss Army of wannabe presidents. That is because they are well-trained and equipped, and have elite forces and good financial resources at their disposal, but are lacking in head count when it comes to the size of their army and its supporters.
The bad news for the Swiss Army is that 9 out of 10 ten times, it is going to get smoked by a legit super power. The same is true for Klobuchar and Booker versus war machines like Joe Biden and Elizabeth Warren. However, there is some good news too. This is because the first battles aka primaries of the 2020 race are on terrain that favors these two niche candidates. A well-educated, Midwestern state like Iowa levels the playing field for Sen. Klobuchar; and the black vote in South Carolina tips the scales a little bit for Booker. Basically, these small states give a demographic edge to Klobuchar and Booker the way that the Alps hook it up for the Swiss Army. That is why I am positive that Klobuchar and Booker will fight a guerrilla war from now until February and then just go ape once they get to fight their big battle on friendly turf. These two campaigns are in it for a while.
Andrew Yang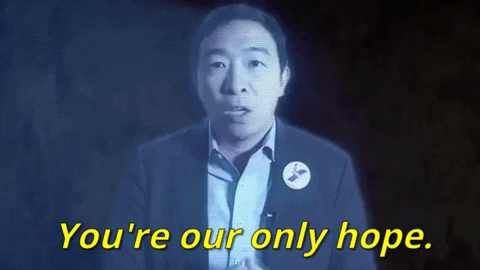 Andrew Yang reminds me a lot Bernie Sanders, Ron Paul, and Donald Trump due to the fact that I think his campaign is 75 percent about raising awareness to his worldview/favorite issues and 25 percent about actually winning. Candidates like these don't just drop out of races. They create their own media circus that amplifies their voice and stay in until the bitter end. The YangGang isn't going anywhere anytime soon.
Julian Castro
Julian Castro is a serious badass and 100 percent the most savage candidate we've seen yet. He absolutely piped Beto O'Rourke in the first debate for being a fake news Hispanic. Then, at the Houston debate, he suicide bombed Joe Biden by ripping on him for being old AF and forgetful. At this rate we are one heated exchange away from Castro telling the American people that he is a better candidate than Elizabeth Warren and Kamala Harris because they stink at driving and math.
Ordinarily I would be totally sold on this strategy because I am the biggest alpha in the USA; but I am starting to wonder what Julian Castro's goal is. Anyone who rips on Joe Biden for being as forgetful as Brett Kavanaugh at a Senate hearing has huge balls and is acting like they think they actually have a shot at being president. But this bro only raised $2.8 million last quarter, which is more embarrassing than Ace of Base's career since dropping The Sign. $2.8 million is about 1/9 of what Mayor Pete brought in last quarter and only three times as much as Castro's brother, Joaquin, raised to get re-elected to Congress. By the way, he got re-elected to one out of 435 House seats in the House. $2.8 million is just pitiful.
If Castro thinks he is going to be president then he will try to stick around. But it is pretty obvious that he does not have the legs to do that. The smart thing for him to do is drop out and endorse whoever he thinks will win and hope to get a cabinet post as a thank you. The longest this campaign can go is to New Hampshire. But I think the DNC will raise the bar for debate qualifications before then and basically strangle Castro in the fall.
YouTube Star Beto O'Rourke
YouTube Star Beto O'Rourke is the biggest question mark in the field to me. There are two ways to see his campaign.
The first one is that he is basically the Snapchat of political candidates. He exploded in popularity with millennials, attracted millions of dollars in financing, but basically let everyone down when his new product roll-outs flopped in the months since the 2018 campaign. But now that Beto is focused on a more narrow market — gun violence — he is building a following and a niche that his campaign can grow on. If Beto is the Snapchat candidate then I think he'll stay in the race at least through New Hampshire, since his name ID and folksy style are guaranteed to play better in these two states that are won inside of people's living rooms.
The other way to see Beto is that he is basically bored and only running for president because he needs a paycheck. That sounded more likely while he was depressed driving around America and Instagraming his dentist appointments. But I feel like Beto has caught a second wind and is going to give this a try. Also I think here is no chance that he is running for Senate. He's in it until Super Tuesday.
Rep. Tulsi Gabbard
My read on Rep. Gabbard is that she is extremely hot and weird and this gets America's attention every time she shows up at a debate. I think she also gets the country's attention because she is borderline a Republican.
That said, it does not look good for her to qualify for the October debate so I am not sure how she is going to continue to get the word out about her weirdness/hotness. It also doesn't help her that she is not an extreme partisan because there are pretty much zero news outlets in America who are interested in covering politicians who aren't psychos. Amy Klobuchar has also learned this the hard way too. Tbh, I don't think this campaign can hang on much longer because without debate performances, Rep. Gabbard is going to have a very hard time raising enough money to stay in the game.
Where is the money?
Honestly I think the smart thing to do is buy YES on Gabbard and Castro at a total cost of about 60 cents. These two campaigns are the most cash and attention starved. Castro's campaign is going to be on life support soon and if Gabbard doesn't make this next debate, her chances of being president are basically comatose.
KEENDAWG.