A Fact Sheet for Next Week's Southern Governor's Races
I do not know if you remember but Louisiana, Kentucky, and Mississippi have gubernatorial elections this month. I personally have been confused by all of these races because the only names I ever hear in their campaign ads are "Nancy Pelosi" and "Donald Trump." However, the more I think about this, the more I realize it is a sign of the times. The fact that candidates in MS, KY, and LA are yapping so much about Trump and Nancy Pelosi is proof that state and local politics have been completely cucked by national partisanship. Sean Hannity and Rachel Maddow just have way more pull than local tastemakers, like these guys:
I am very sad about this because the South is one of the last remaining regions where one party can dominate national politics (GOP) and another can dominate local politics (Democratic). I am going to release a podcast about these races, but for now I would like to share a genius PROS & CONS sheet that I made for myself while debating who will win.
MISSISSIPPI – Lt. Governor Tate Reeves (R) vs. Attorney General Jim Hood (D)
FACT: Lt. Governor Tate Reeves is the most boring human being in history. 
PROS: Reeves is incapable of saying anything that would piss someone off, because he will straight-up put you to sleep before he gets through a full sentence. If I were his speechwriter I would just feed him lyrics to Marilyn Manson songs and see if anyone noticed.
CONS: Democrat Jim Hood is a hilarious good old boy who can tell a yarn like none other and has a mullet. He is definitely a man of the people and the stronger candidate.
FACT: In 2018, Democrats won on Republican turf by flipping educated professionals in the suburbs.
PROS: Mississippi is basically a suburb of Hell.
CONS: There are very few people in MS who are educated and/or professional, which means there aren't that many votes up for grabs if you are Democrat Jim Hood.
FACT: This is looking a lot like a whites vs. blacks election in the Deep South.
PROS: Usually it is very easy to predict who wins a whites vs. blacks election in a state that has the Confederate flag embedded in its own flag.
CONS: That's kind of depressing.
KEENDAWG SAYS: PredictIt favoring Tate Reeves as a 90/10 winner is lunacy. This is a 75/25 race. I'm going to pick up a few NOs on Reeves at 9 cents and see if I can flip them for 12-15 if and when he gets another poll that freaks people out.
KENTUCKY – Matt Bevin (R) vs. Andy Beshear (D)
FACT: Matt Bevin is an outspoken businessman who has zero political experience and is very unpopular in Kentucky.
PROS: This is the same description as Donald Trump's national profile and Trump has a 57 percent approval rating in KY. That is much higher than any Republican or Democrat's favorables in the Bluegrass State. Also like Trump, Bevin polled way behind his opponent when first elected — and probably has a bigger base of support than pollsters can detect.
CONS: It is generally bad to be getting crushed in polls like Bevin has for his entire term. You gotta wonder.
FACT: Andy Beshear is the son of a former Kentucky governor.
PROS: In small states, it is usually way better to have a bridge or courthouse named after your family than to actually be good at your job.
CONS: Andy Beshear looks like Jared from Silicon Valley.
But maybe that is a PRO: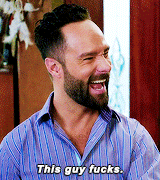 FACT: In the past week, Gov. Bevin has clocked two polls– one that has Gov. Bevin tied with Andy Beshear and one that has him 19 points behind. 
PROS: Gov. Bevin pulling-even checks-out with some structural advantages that Republicans should have in this state, given that all politics are now national and the national Democratic Party's message of socialism and gender-neutral bathrooms does not play well outside of Brooklyn and Beverly Hills.
CONS: Gov. Bevin has been so underwater in the polls all year that it is hard not to think that the survey that shows him tied is the outlier.
KEENDAWG SAYS: I picked Matt Bevin to win this race. Part of this is because Trump is flying in the night before to hold a rally in Lexington, which might be the only place in the state where there are still votes up for grabs.
LOUISIANA – Gov. John Bel Edwards vs. Rich Guy Eddie Rispone
FACT: This race is very different from the one that put Gov. Edwards into office in 2015.
PROS: John Bel Edwards' last opponent was David Vitter, who was a well-known Senator. So beating him was a big deal.
CONS: John Bel Edwards' last opponent was a career swamp creature who mailed it in and had a history of banging-out hookers/ generally carried the albatross of a sex scandal around his neck. Eddie Rispone does not have that problem.
Also Gov. John Bel Edwards has the same name as another prominent Southern politician with a major sex scandal (Sen. John Edwards [D-NC]).
FACT: Republicans received a larger percent of the vote than Democrats in the first round of this election — but barely.
PROS: 50 percent of white voters showed up for the first round compared to 40 percent of traditionally Democratic black voters.
CONS: With the Governor's mansion really on the line, Democratic voters, including black voters, are more likely to turn out and dynamite the GOP's narrow lead in the last round of voting. In fact, during the 2015 run-off, the black vote actually increased.
FACT: Eddie Rispone is rich AF and can self-fund his race.
PROS: Money is awesome.
CONS: None.
KEENDAWG SAYS: I can hardly understand what people from Louisiana are saying when they talk, so honestly I do not understand what is going on in this race.
THE BIG PICTURE — ALL THREE RACES TOGETHER
FACT: Since 2003, the Republicans have never swept LA, KY, and MS. They have always won 2 out of 3. They have never lost MS.
PROs: There are a lot of seriously pissed off people in the USA who are going to show-up in hopes that their vote will nuke Donald Trump. If turnout is as high as expected for these races, that probably means a lot of Democrats voting. I would not be surprised if the Democrats picked-off 1-2 of these seats.
CONS: Politics are way more national now than they've been in recent years. This is due to the fact that Democrats are trying to impeach Donald Trump, who is more popular in SEC states than the sport of football; and because most of the leading Democratic presidential candidates' electoral strategy is to call everyone who doesn't agree with them racist and to pass laws that make their kids use the opposite sex's bathroom. So voting to protect Donald Trump might be what passes for bipartisanship in the Solid South.
I would not be surprised if the Republicans swept these elections.
MY PREDICTIONS:
Ha. You're not getting them yet. Check back later for a soon-to-be released podcast.
KEENDAWG.