Your Official 2022 Forecast for Everything
Animals,
It is a new year and we need to start it off right. Here's how 2022 will be measured against the CEntury so far in:
🤩 CULTURE
🏛 POLITICS
📊 BUSINESS
🏀 SPORTS
🏙 URBAN TRENDS
This is your official 2022 forecast, benchmarked against the best & worst of the 21st Century, so far.
Will this year be one of new highs or even deeper bottoms?
Well, let's see what it's up against. The best & worst of the Century so far belongs to —
BEST POP CULTURE MOMENT:
Kendall Jenner and Pepsi (NASDAQ: $PEP) team up to solve 400 years of racial injustice.
WHY IT'S #1
How do you solve centuries of racial injustice? Just put a celebrity on it. The real reason elites hated Kendal's spot was that it depicted them exactly as they were: sanctimonious rich guys who thought their newfound woke enlightenment could save the world.
WORST MOMENT IN POP-CULTURE
Kanye West crashes young Taylor Swift's VMA (2009) speech.
WHY IT WAS THE WORST:
Any illusion that Kanye West was a hero worth celebrating died the night he trashed young Taylor on national TV. Ironically, West and Swift, both Mozart-level talents, have been pretty screwed up ever since. Sad!
BEST SINGLE – "Umbrella" by Rihanna & Jay Z (2007)
WHY IT WAS #1
The 21st Century has had its share of bangers, but "Umbrella" is the only one that can fit into each unique era of the century so far. "Umbrella" bridges trends before & after… and it still holds up today.
WORST SINGLE – "Something Just Like This" by Coldplay and The Chainsmokers
You know a movement is dead the second it turns into a Hollywood formula. So EDM basically died when The Chainsmokers, a D- act with B+ relevance, teamed-up with Coldplay, an A- band that most of us forgot existed. Unfortunately, the formula worked. But EDM died in the process.
CULTURAL FORECAST FOR 2022:
Pop-culture has been at an all-time low bc of COVID restrictions & the mistaken belief that art must glorify wokeness. That means we're in for a big correction, where genuinely talented people once again dominate American culture. Will it come in 2022?
BEST PRESIDENT – BARACK OBAMA
WHY HE WAS THE BEST:
Because the bar is very low. Measured against the competition, Obama's flaccid presidency looks great. Hey, at least he didn't walk the country into a dumb war in Iraq or actively make a pandemic worse. But his biggest legacy was…
WORST PRESIDENT – DONALD TRUMP
WHY HE WAS THE WORST
President Trump brought out the worst in all of us. He somehow found a way to turn Republicans into the party of [white] Identity Politics and Democrats into the party of froth-at-the-mouth conspiracy theorists. On second thought, what an accomplishment!
MOST IMPACTFUL GOVERNMENT ACTION:
President Obama's Title IX guidance on college campus sexual assault.
WHY IT WAS THE BIGGEST
In 2011, Obama began the era of mass cultural conflict by telling universities to take away due process rights for male students accused of sexual assault. Debates about re-apportioning rights based on race, sex, and gender have not stopped since.
POLITICAL FORECAST FOR 2022:
Bleak. Joe Biden is deeply unpopular & backup QB Kamala Harris is currently in a metaphorical cage match with Dan Quayle to decide who the most irrelevant VP in modern history is. Oh and the Republicans are still explaining away a Jan 6 insurrection.
MOST INFLUENTIAL COMPANY – FACEBOOK
You love to hate FB, Instagram & CEO Mark Zuckerberg's wooden personality, but this company changed the way human beings thought about themselves and their communities in a way not seen since the Gutenberg press. Zuck is king. Full stop.
LEAST INFLUENTIAL COMPANY – GROUPON
Imagine a time when, "we're going to do this new thing called 'email marketing'" was a billion-dollar idea.
Must have been nice.
FORECAST FOR 2022:
It's hard to think of a time when CEO's had as large of a presence in the American psyche as today. Bezos, Elon, etc., have the stature of Civil War generals. They probably won't take us to Mars (or the virtual equivalent) this year, but it's not far off.
BEST GAME: Texas vs. USC (2006)
It's rare that a championship match features the 2 best teams that season, much less 2 of the best teams in history. But that's how this classic Rose Bowl played out — and its thrilling conclusion is still one of sports' most memorable moments.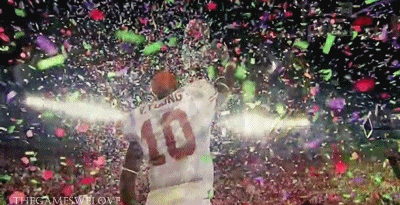 BEST ATHLETE: MICHAEL PHELPS
You probably think this is a Tom Brady snub. But Phelps competed in swimming, a truly global sport, and achieved a level of dominance we won't see again. He won 23 gold medals in 5 Olympic games, and made SWIMMING relevant to Americans (imagine that).
MOST INFLUENTIAL CITY: SAN FRANCISCO, CA
We didn't get flying cars this decade, but we did get technology products that complete the mundane tasks of our lives with robotic efficiency (literally), connect us to others, and democratize access to information. Thank you, SF!
LEAST INFLUENTIAL CITY: WASHINGTON, D.C.
Most politicians fail to grasp how much politics lags behind culture in the U.S. Leaders like JFK, Reagan & FDR used to re-wire our minds, but now that job is done by innovative tech & media platforms whose influence crushes DC's.
2022 URBAN FORECAST:
The pandemic has caused a mass-exodus from big cities. If this is permanent, expect to see college towns & resort cities produce great ideas in the near future. Everything is always changing– and never so much as now. Let's have a great year together!